The cult eye massage tool celebrity make-up artists swear by
FEBRUARY 20, 2018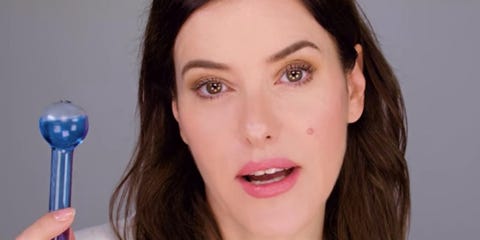 Lisa Eldridge, Nichola Joss and Pati Dubroff all love it
"One device sitting in its own league is 001 Skincare's Eyecicle, which is hard to ignore given its legion of influential fans.

Celebrity make-up artist and Lancôme ambassador Lisa Eldridge says she keeps one at home and one in her kit, "for a wake-you-up massage". Pati Dubroff (Margot Robbie's go-to make-up girl) called it her "new best friend". Karen Alder (Saoirse Ronan's make-up wizard) claims within minutes of using it her "tired hooded eyes look open and lifted," while facialist (to Meghan Markle, no less) Nichola Joss says she can "definitely see the benefits of using it" adding, "This is great for when eyes feel puffy first thing in the morning".

This content is imported from Instagram. You may be able to find the same content in another format, or you may be able to find more information, at their web site.

So, what exactly is the Eyecicle? Designed to be chilled, the cooling device (of which there are two, made of seam-free rounded glass) boosts blood circulation when smoothed around the eyes, which in turn encourages toxin drainage, ergo deflating puffiness and bringing a brightness to the eye area by way of fresh oxygen and nutrients. Or so the theory goes.

While you might think it a fancy alternative to using the backs of cold spoons against the eyes in a bid to tighten and brighten excess baggage, the Eyecicle comes with many more options for use than that of the age-old life hack. Try the orbs for rolling around the eyes, the shafts for smoothing the skin in various directions and the tips for targeting pressure points (full instructions with diagrams are included).

We've been using it ourselves, and totally approve. Though we can't promise it won't gather dust between enthusiastic anti-ageing spouts, it'll be one trick we'll certainly come back to. Especially after a late night or before a big day."
Excerpt from Harper's BAZAAR
Story by Bridget March
---